5/1: New this week at Smoke Signals Online…
This week at Smoke Signals Online, the net's original and largest smoking fetish site, we've added 1362 new photos and 19 minutes of video.
Ellie A. enjoys Marlboro 100s in two great casual shoots in the photo galleries (one in flannel shirt and cutoffs, another in a long sweater), with her usual terrific mouth and nose exhales (lots of those!) and snaps, plus some great right-at-you exhales. Then Charli enjoys (and smokes the hell out of) a VS 120 and a cork 100 in the dressing room, doing her hair and makeup and showing mouth exhales, dangles, snaps and french inhales.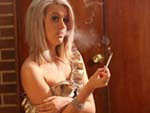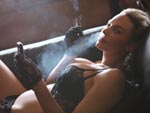 In the video galleries, Zora and Shirin put on a smoking clinic with their cork 100s as Shirin does her nails (and Zora's) and the duo takes selfies. There's an incredible mix of mouth, nose and mouth/nose exhales, snaps, recycled french inhales, smoke rings and double drags. After that, Zora shines in two solo glam shoots (one in negligee) as she enjoys Marlboro 100s and shares an interesting fact: her personal smoking record is five packs in a single day.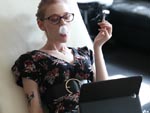 You can see a sample clip here.
Come join us!