9/22: New this week at Smoke Signals Online…
This week at Smoke Signals Online, the net's original and largest smoking fetish site, we've added 365 new photos and 17 minutes of video.
It's not quite Halloween in the photo galleries, but Cilla is in orange and black as she rolls her own unfiltered cigarette and puts on makeup as she smokes it with deep drags, slow mouth and mouth/nose exhales, dangles and slight snaps. Then Estelle enjoys a VS 120 in the dressing room wearing fur over her bra, showing nice mouth and nose exhales in her debut appearance with us.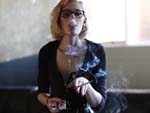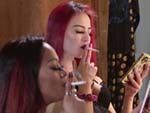 In the video gallery, Lilian has just gotten home and is ready for the type of workout she enjoys the most, smoking a series of all-whites and stripping down to the basics – heels and a long pink toy. She works herself with her fingers and the toy, showing nice inhales, lots of snaps and smoke play (including some smoke chasing), mouth and nose exhales as she winds up her evening in fine style.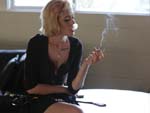 You can see a sample clip here.
Come join us!