7/1: New this week at Smoke Signals Online…
This week at Smoke Signals Online, the net's premier smoking fetish site, we've added 1303 new photos and 18 minutes of new video.
In the photo galleries, Leah L. smokes VS 120s and corks in casual photo shoots this week (including one in bra and cutoffs) with her always-fantastic, sexy style. There are very deep drags, mouth and nose exhales, french and snap inhales and smoke rings, all with a beautiful smile. Then heavy smoker Isis starts in lingerie but is quickly in nothing but garters and heels, as she smokes cigarette after cigarette with cheek-hollowing drags and mouth exhales while playing with her pussy until it's raw and she's fully drained.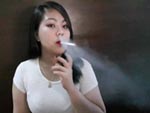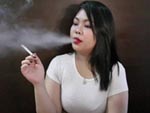 In the video gallery, we're delighted to be able to show some of the first shoots ever done by Random Snaps superstar model Katie. In casual settings, she smokes corks (and in one scene, all-whites) with amazing style even though she was new to smoking modeling: huge drags and lots of double drags, beautiful teasing snap inhales, thick mouth and nose exhales, hands-free smoking, and she even shows off some nice french inhales even though she was still learning to do them at the time. Even in these initial shoots, you could tell she was a natural.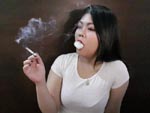 You can see a sample clip here.
Come join us!