3/22: New this week at Smoke Signals Online…
This week at Smoke Signals Online, the net's premier smoking fetish site, we've added 684 new photos and 10 minutes of new video.
In the photo galleries, it's VS 120s for Loretta and Sam, as they have fun with their smoking at a makeup table; there are enough snaps, frenches and wafts, plus mouth and nose exhales, to go around.
In the high-res galleries, Leah L. and Loretta are getting ready for a wedding, but they take time out to share a cork 100, with their usual outstanding smoking styles befitting the occasion.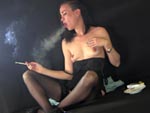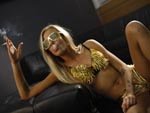 In the video gallery, freckled Tonya relaxes on the couch in her sweats, smoking several Marlboro Menthol 100s; she unzips her sweatjacket and leisurely runs her hands over her bra and underneath her sweatpants to enjoy the feeling, as she takes deep drags and shows beautiful long cone exhales.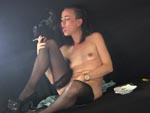 You can see a sample clip here.
Come join us!