11/22: New this week at Smoke Signals Online…
This week at Smoke Signals Online, the net's original and largest smoking fetish site, we've added 741 new photos and 18 minutes of video.
We've seen Cilla regularly with VS 120s, but what she really loves is rolling her own cigarettes. She does that expertly in two dressing room photo gallery shoots, as she works on her hair and makeup, and then relaxes. There are deep inhales, mouth exhales, double drags and dangles. Then Sarah F. is relaxing on the couch, stretching out her stockinged legs and enjoying a Marlboro 100. She shows deep inhales, snaps, mouth exhales and some smoke rings in a pretty shoot.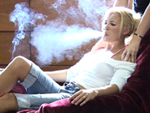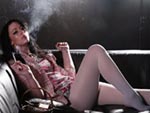 In the video gallery, redheaded Andrea is a cutie with her clothes on, smoking all-whites with enormous inhales, thick mouth and nose exhales, and some slight snaps and a few french inhales. She's a hottie with her clothes off, though, slowly working her pussy up to a frantic finish as she continues her deep drags and big exhales until she's done.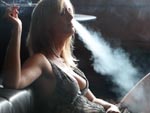 You can see a sample clip here.
Come join us!