2/1: New this week at Smoke Signals Online…
This week at Smoke Signals Online, the net's original and largest smoking fetish site, we've added 1409 new photos and 18 minutes of video.
One of our best long-term smokers, Cherry B., shows off her plentiful natural nose exhales, mouth exhales and residual exhales, plus dangles in the photo galleries, as she devours several VS 120s in a casual scene and then in a half-open shirt and panties. There are lots of wonderful closeups, too. Kylie and Erin are putting on their makeup before a night out, chatting and smoking while they do it, of course. We see huge drags and gorgeous mouth and nose exhales, plus a few snaps, throughout. Then Kylie enjoys a cork in the dressing room, with an array of styles including mouth and mouth/nose exhales, plus some hands-free smoking.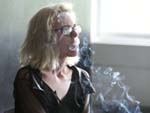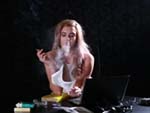 In the video gallery, pretty Zora returns for three glam and casual scenes showcasing her terrific deep drags, thick mouth and nose exhales, residual nose exhales and smoke play. She plays with her hair, talks on the phone (asking a friend to bring her more cigarettes), toys around with a set of handcuffs – but the focus is clearly on her great smoking.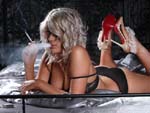 You can see a sample clip here.
Come join us!