2/1: New this week at Smoke Signals Online…
This week at Smoke Signals Online, the net's premier smoking fetish site, we've added 587 new photos and 16 minutes of new video.
In the photo galleries we have two fantastic archive lingerie shoots with Maddie, who smokes corks with her super-smoker style, showing us enormous drags, slow and thick mouth/nose exhales, some smoke rings, and lots of snap/open-mouth inhales, some in terrific closeup. Then in a behind-the-scenes look, Jane gets ready for a more involved shoot with a VS 120, showing nice drags and slow mouth exhales.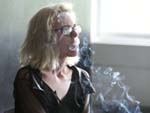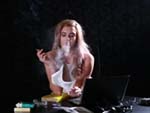 In the video gallery, Aymie's back in a casual shoot, drinking wine, chaining corks and showing off her fantastic style with lots and lots of french inhales and nose exhales after her cheek-hollowing drags,
along with mouth exhales, snaps and dangles. Then we see her relaxing after a night out, of course with her same outstanding style.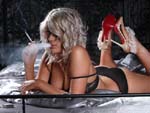 You can see a sample clip here.
Come join us!