4/1: New this week at Smoke Signals Online…
This week at Smoke Signals Online, the net's original and largest smoking fetish site, we've added 1872 new photos and 19 minutes of video.
Ellie A.'s back in the photo galleries with more amazing glam and casual shoots, smoking Newport 100s and Marlboro 100s with her incredible expert style: mouth and lots of nose exhales, snaps, french inhales, right-at-you exhales and more. She also dangles and smokes hands-free as she applies makeup – just like any truly experienced smoker would. Stunning stuff. Then Ashlee G. strips out of her negligee as she smokes all-whites, taking take full advantage of her comfortable bed and nimble fingers as she drags deeply and shows huge cone exhales as she satisfies herself.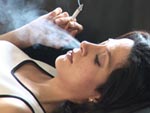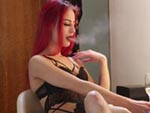 In the video gallery we have a delicious smorgasbord of Charli shoots, from Newport 100s to VS 120s, from casual to glamour and lingerie – and all with great mouth and nose exhales, snaps and frenches, dangles and smoke rings, and lots of chatting.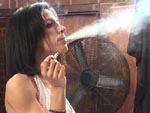 You can see a sample clip here.
Come join us!