9/22: New this week at Smoke Signals Online…
This week at Smoke Signals Online, the net's premier smoking fetish site, we've added 521 new photos and 14 minutes of new video.
In the photo galleries, we have three scenes with newcomer Somer (casual, stunning black-and-gold lingerie and lingerie/heels) allowing her to show off her great natural open-mouth and snap inhales, mouth and nose exhales, and beautiful smile as she smokes. Then in the high-res galleries, three super-sexy lingerie shoots from Clare S., with deep drags and slow mouth exhales throughout.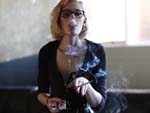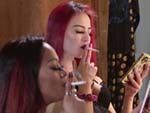 In the video gallery, Lexi A. is in black lingerie, short skirt, stockings and platform heels; she lights up a Newport, and starts to make herself feel good, first playing with her boobs and then, after rubbing her lighter on her panties, pulls them off to finger herself to orgasm. Lexi takes deep drags as she smokes one Newport after another, showing nice mouth/nose exhales with nose residuals.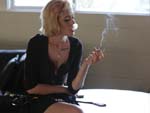 You can see a sample clip here.
Come join us!