3/1: New this week at Smoke Signals Online…
This week at Smoke Signals Online, the net's original and largest smoking fetish site, we've added 826 new photos and 19 minutes of video.
For some reason, Mel L.'s smoking doesn't always come off on camera as terrific as it really is. In these two shoots in the photo galleries, it does. Mel sparkles first in bra, panties and heels as she smokes a cork 100, and then in lace lingerie as she does her eyes and puts on lipstick while smoking a VS 120. We see deep inhales, lots of her trademark recycled french inhales, and thick mouth exhales with many right-at-you exhales. Then Sherie, looking sultry, relaxes topless and in pink panties as she smokes a Marlboro 100 with deep inhales followed by mouth and nose exhales.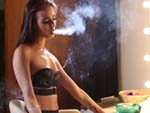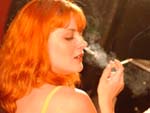 In the video galleries, Kim B. got striking red hair and is in a sexy black bra, as she chains a VS 120 and then a Marlboro 100; as always, her inhales are enormous and often followed by beautiful snap/frenches, and her exhales flip between mouth, nose and mouth/nose, all done to perfection. And Rosy
is a hottie in a black corset with ruby red lips; she enjoys a cork 100 showing deep drags, thick cone, nose and mouth/nose exhales, and lots of residual exhales as well.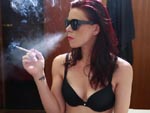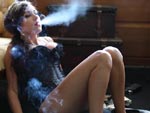 You can see sample clips here and here.
Come join us!