3/22: New this week at Smoke Signals Online…
This week at Smoke Signals Online, the net's premier smoking fetish site, we've added 792 new photos and 14 minutes of video of smoking fetish video.
In the photo galleries, Sara P. puts on more dazzling displays of smoking technique, with mouth and nose exhales, great french and snap inhales, smoke rings and more. She also smokes a mini-cigar in one scene.
Georgia shows off her cheek-hollowing drags and big snaps and exhales in the dressing room and in the mirror as she does her hair, dangling at times.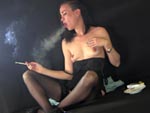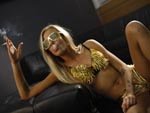 In the video galleries, heavy-smoking Adarra is in black bra and panties; the bra quickly comes off so she can play with her breasts and nipples (she also plays with herself above and underneath her panties as she chains all-white 100s. The panties then come off as Adarra chains into a multiple, working her pussy until she's satisfied. The smoking is strong, with Adarra taking huge inhales and showing thick exhales.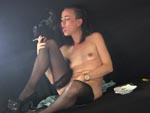 You can see a sample clip here.
And you can see free previews from all of our sites here. Come join us!