3/24: New this week at Smoke Signals Online…
This week at Smoke Signals Online, the Smoking Fetish Megasite, we've got nearly 700 new photos and 17 minutes of new video. In the photo galleries, Sara P. is back in three terrific shoots. First, she's in a short skirt and reading, with great snap inhales and smoke rings, plus frenches, dangles, and strong mouth and mouth/nose exhales. Next, comes a glamour shoot with nice profile closeups and lots of double pumps; finally Sara has three packs and has to decide between Marlboro 100s, VS 120s and Mores – she picks the Virginia Slim for her glamour shoot, but then chains into a More and finishes up with nice double drags. Also, pin-up model Charly is back in lingerie and glamour shoots; her style is straightforward but her look is straight out a 1930s Hollywood movie.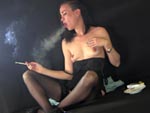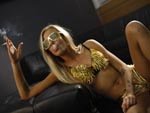 In the video galleries, gorgeous Whitney who is a fabulous smoker, masturbates while nude and smoking Marlboro 100s; even while playing with herself, we see perfect french inhales and snaps, thick mouth and nose exhales.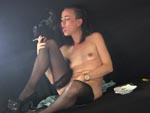 You can see a sample clips here.
Smoke Signals Online – come check it out