10/1: New this week at Smoke Signals Online…
This week at Smoke Signals Online, the net's original and largest smoking fetish site, we've added 1058 new photos and 20 minutes of video.
In the photo galleries, in a blue nightie and then in sexy black lingerie, Charli not only shows us her sensational snaps and open-mouth inhales, french inhales, mouth and nose exhales and smoke rings – but talks about when she started smoking and learning all of her smoking techniques. Then sexy, dark-haired Samara shows us deep drags, snap inhales and thick mouth and nose exhales as she can't wait to get naked and play with herself, as she enjoys her smoke and her orgasm.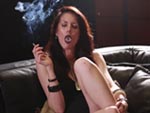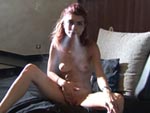 In the video gallery, Ellie A. enjoys a Newport 100 and then a VS 120 in casual shoots, showing outstanding style with lots of big inhales, open-mouth and snap inhales, mouth and nose exhales, plus some rings and dangles. Terrific stuff.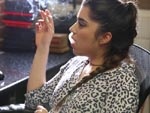 You can see a sample clip here.
Come join us!