4/22: New this week at Smoke Signals Online…
This week at Smoke Signals Online, the net's original and largest smoking fetish site, we've added 426 new photos and 18 minutes of video.
In the photo galleries, Dolly is in sheer lingerie smoking a cork 100 (and then, briefly, in casual dress smoking a slim all-white) as she does her eyes and lips, dangles, and takes deep drags with straightforward exhales, watching herself in the mirror. Then in an archive shoot (done before she perfected her amazing french inhales), long-time smoker Michelle D. shows small snaps and thick cone exhales after her deep drags.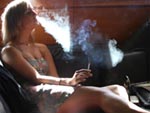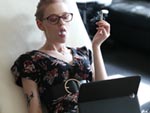 In the video gallery, elegant Eliza starts out in a revealing robe, and ends up working herself to orgasm with a vibrator as she smokes all-whites with deep inhales and beautiful, thick mouth, nose and mouth/nose exhales.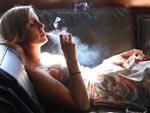 You can see a sample clip here.
Come join us!