11/22: New this week at Smoke Signals Online…
This week at Smoke Signals Online, the net's original and largest smoking fetish site, we've added 710 new photos and 16 minutes of video.
In a glam shoot with heavy makeup in the photo galleries, Charli touches up her hair, makeup and jewelry as she shows off her deep inhales, mouth and nose exhales, snaps and dangles. Then Amanda D. (who is bold enough to wear sexy netted lingerie that shows her nipples) and Charli get close in a hot shoot that features teasing, a little touching and a lot of great smoking – including showy snaps and french inhales.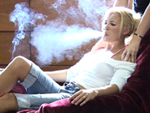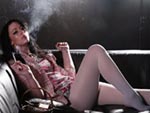 In the video gallery, glamorous Madalina is in a sexy outfit and hot high-heel boots, enjoying all-whites at home; she enjoys touching and stimulating her naked body even more, though, as she takes enormous drags and lets loose with voluminous cone exhales throughout.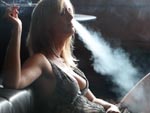 You can see a sample clip here.
Come join us!