8/22: New this week at Smoke Signals Online…
This week at Smoke Signals Online, the net's premier smoking fetish site, we've added 612 new photos and 12 minutes of new video.
In the photo galleries, Kim B. relaxes in blue lingerie and then shows a sophisticated look, as we watch her accomplished smoking: deep drags, snaps, mouth, nose and mouth/nose exhales, and some nice hands-free smoking. Mel L. is in lingerie (in one shoot, incredibly sexy leather and lace lingerie along with latex boots) and shows her thick mouth exhales (some right-at-you) and recycled french inhales.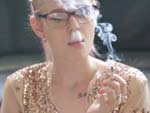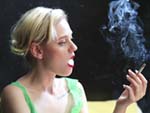 In the video galleries, Mel (in white pants) and Page (in a sweet black corset) hang out topless and smoke; Page is then featured in a short topless scene.
You can see a sample clip here.
And you can see free previews from all of our sites here. Come join us!