The latest update at the net's premier smoking fetish site, Smoke Signals Online, features 1203 new photos and 20 minutes of smoking video.
Among the new updates in the photo galleries, gorgeous blonde Joanna Q. shows a very feminine style in glamour and casual shoots, with strong inhales, beautiful cone exhales, delicate french inhales, and a few nose exhales and smoke rings sprinkled in. And in the R/X galleries, beautiful (and nude) Yana shows deep inhales and great mouth exhales as she touches herself all over.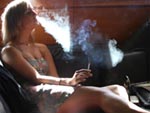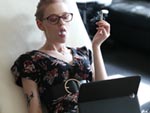 In the video gallery, cutie Alisa moves on to full-out smoky oral sex in the second half of her shoot, mixing her smoking and the smoky oral sex well, and ending with a messy facial finish, followed by afterglow smoke. Alisa shows great, thick mouth exhales, along with some nose and mouth/nose exhales when she's not otherwise occupied.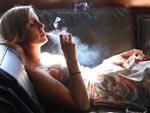 You can see a preview of Alisa here.
Hope you'll check it all out!