5/22: New this week at Smoke Signals Online…
This week at Smoke Signals Online, the net's original and largest smoking fetish site, we've added 1165 new photos and 10 minutes of video.
Charli's ready for business – smoking and otherwise. In photo gallery shoots, she's dressed in business attire (although in one, she's actually online and searching for smoking women), at times wearing glasses.
She smokes Newport 100s and Marlboro Light 100s with a fabulous assortment of deep drags, mouth and nose exhales, snaps, dangles and hands-free smoking. Aymie's back, this time in a shoot with gorgeous closeups of her enjoying her Marlboro 100; we get fantastic views of her deep drags, snaps and frenches, mouth and nose exhales, and dangles.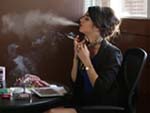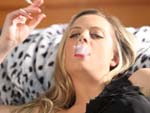 Whenever we have a visit from Ellie A., the first thing we always hear is "more Ellie!" So here she is in the video galleries enjoying a Newport 100 and an all-white, doing her makeup and then relaxing, with tons of her great nose exhales along with mouth exhales, snaps, frenches and dangles.
You can see a sample clip here.
Come join us!