4/22: New this week at Smoke Signals Online…
This week at Smoke Signals Online, the Smoking Fetish Megasite, we've almost 900 new photos and more than 24 minutes of new video. We have more from your new favorite, Georgia, this week in the videocap galleries. Once again we see her enormous inhales (and then holding the smoke for a long, long time) in many of her scenes. We also see an impressive range of techniques including snaps, french inhales, smoke rings, mouth/nose exhales, double drags (and occasional triple drags); she's mostly in lingerie for these shoots, but is also dressed casually in one scene. And in the high-res galleries, Anabelle poses and smokes in her negligee.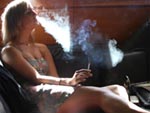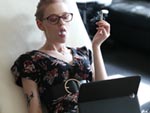 The video gallery features more of Eve B., who opens up her schoolgirl-type outfit to reveal her cute tits and pussy – and naturally she plays with them, and masturbates to completion, as she smokes – still showing beautiful mouth and nose exhales as she does it.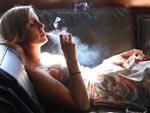 You can see a sample clip here.
Smoke Signals Online – come check it out