9/1: New this week at Smoke Signals Online…
This week at Smoke Signals Online, the net's premier smoking fetish site, we've added 1364 new photos and 18 minutes of new video.
In the photo galleries, Nancy C. shines in five shoots, from lingerie to casual, putting on makeup and playing with her phone, showing us deep inhales, snap inhales, cone exhales and lots of nice smoke rings. And after your positive feedback on our "web model" experiment, we're trying it again, this time with the very popular online smoking model Bee (often known as Ms. Death Bee). She shows us her deep drags, fabulous open mouth and snap inhales, and huge mouth exhales in this self-shot set.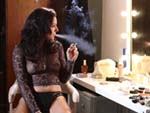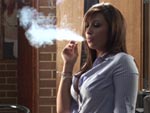 In the video galleries, cute blonde Millie debuts as she lounges in a robe and smokes, showing straightforward style with some right-at-you exhales and some smoke rings. Then, in a hot glamour shoot Mel L. shows mouth exhales (some right-at-you), recycled french inhales, and some nice smoke play.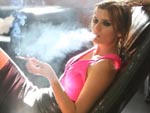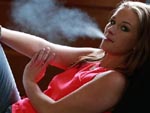 You can see sample clips here and here.
Come join us!