9/15: New this week at Smoke Signals Online…
This week at Smoke Signals Online, the net's original and largest smoking fetish site, we've added 751 new photos and 14 minutes of video.
It's Newport 100s and a glamorous look for Susan B. in the photo galleries this time around, as she shows off her french inhales and mouth exhales while dressed in a little black dress and faux fur. Then redheaded Andrea is smoking a series of all-whites with big inhales, slight snaps and thick mouth, nose and mouth/nose exhales – and she loves the fact that you're watching. She slips out of her dress to tease herself and masturbate in two different positions, keeping eye contact with you the entire time.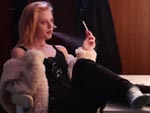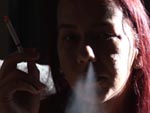 In the video galleries, Kim B. shines in two glam shoots with deep drags on her cork 100s, with great snaps and mouth/nose exhales, and terrific hands-free smoking as she puts on her mascara. And then in a short archive shoot, cute Katie RS shows why she became one of Random Snaps' most popular models ever. We see her exceptional style demonstrated with huge drags and double pumps, mouth and mouth/nose exhales, snaps and frenches, and hands-free smoking – all while looking adorable in braids and a Hello Kitty t-shirt.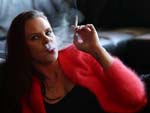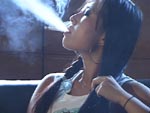 You can see sample clips here and here.
Come join us!