1/1: New this week at Smoke Signals Online…
This week at Smoke Signals Online, the net's premier smoking fetish site, we've added 759 new photos and 18 minutes of new video.
This week in the photo galleries, in a casual/glam shoot, Brigitte and Hayley smoke Newport 100s and show exactly what you'd expect from two terrific smokers: cones and nose exhales, snap and french inhales, double drags and smoke rings, all done with great style. Then, blonde, big-titted Adison smokes a number of cork 100s as she strips out of her leopard-patterned lingerie to masturbate with her figures and a large vibrator. Throughout, we see her take deep drags with lots of the french inhales that she loves, along with slow mouth exhales.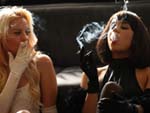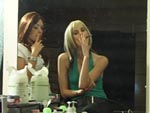 In the video gallery, busty Lauren D. is sexy in orange, smoking a VS 120 with slow and pretty mouth, nose and mouth/nose exhales. Then she's in a more sedate outfit, but still smoking VS 120s with beautiful style, and still busty.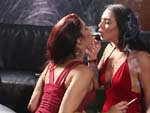 You can see a sample clip here.
Come join us!