New smoking fetish videos added at Smoking Flicks….
We've added two new smoking fetish movies at Smoking Flicks – the smoking movie streaming and video download site.
First, in a new Europesmoke compilation, there are four scenes with Donna and two with Susan. Donna, a 22-year old classic beauty from Romania, tells the interviewers about her smoking history (including smoking in class without getting caught) and other personal subjects, as she smokes all-white 100s and shows outstanding and sophisticated style including thick mouth, mouth/nose and nose exhales. Susan is a heavy-smoking Eastern European beauty – there's no dialogue here, just long inhales and picture-perfect mouth, nose and mouth/nose exhales on her all-whites.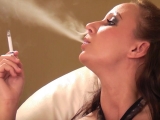 And in a new release of material shot by Visualsmoke, Deedee returns, again with her flame red natural hair – but this time, in elegant evening wear and then in leather, all the while with sophisticated elbow-length gloves. The smoking is again exceptional, with lingering open-mouth inhales, multiple drags, thick exhales, snaps and frenches – as Deedee smokes colored cigarettes, 120s, and Mores.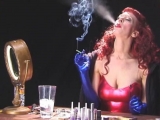 Come check them out at Smoking Flicks