New smoking fetish videos added at Smoking Flicks….
We've added two new smoking fetish movies at Smoking Flicks – the smoking movie streaming and video download site.
We have a new Smoke Signals/Random Snaps compilation video; highlights include accomplished smoking from blonde Burnetta, including a whole shoot of fabulous nose exhales; sophisticated and sexy smoking from composed Vanity smoking 120s; and playful duo shoots with Karina and Rebecca B.
And we have the first full-length video from Europesmoke, which shoots for the Smoking Fetish Tube. In this compilation, there are four scenes with Amanda and two with Anita. Anita, a two-pack-a-day smoker from Russia, talks with interviewers about her love of smoking, and shows fabulous elegant style including mouth and nose exhales, and slight natural open-mouth inhales as she smokes colored cigarettes with gold filters. Amanda, a 19-year old brunette from Hungary, smokes Marlboro 100s with strong inhales and beautiful mouth and nose exhales while discussing her smoking history.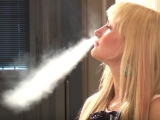 Come check them out at Smoking Flicks