6/22: New this week at Smoke Signals Online…
This week at Smoke Signals Online, the net's original and largest smoking fetish site, we've added 921 new photos and 16 minutes of video.
In a casual yet dressy outfit, Susan B. enjoys Camel 100s in several photo gallery shoots; she shows off her amazing frenches, along with some snaps and smoke play after big drags, plus mouth and nose exhales, and her seductive winks.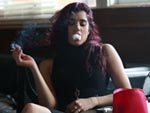 And in the video gallery, Katrina T. makes her first appearance with us in lingerie, showing deep drags and straightforward smoking style, as she relaxes and applies lip gloss.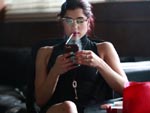 You can see a sample clip here.
Come join us!