6/22: New this week at Smoke Signals Online…
This week at Smoke Signals Online, the net's premier smoking fetish site, we've added 610 new photos and 11 minutes of new video.
In the photo galleries, we have several glam shoots with Leah L. and Loretta as they have fun smoking and show us their usual snap and french inhales, cone and nose exhales, and smoke rings. In the high-res galleries, we have short glam shoots with Krystelle and Kylie as they show their nice inhales, mouth and nose exhales.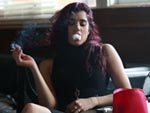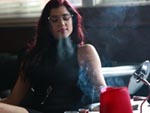 In the video galleries, Rory and her stepsister Shayne chat and smoke on the bed. Shayne has just come home from college and has just started smoking, so she shows lots of smoke play in addition to mouth and nose exhales as she gets the hang of it; Rory shows nice accomplished style. Shayne reveals that she's had some lesbian affairs in college, and then both stepsisters reveal that they've had the same type of thoughts about each other.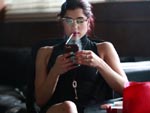 You can see a sample clip here.
Come join us!