7/1: New this week at Smoke Signals Online…
Bras, panties, tats, piercings and smoke – that's what you get when Crimson and Mel L. get together to get comfortable and smoke in the photo galleries. Oh, and also mouth, nose, mouth/nose exhales, frenches, recycled frenches and snaps. Then, sophisticated Michelle lights a slim 120 and soon looks a bit less sophisticated, as she sheds her clothes in order to masturbate to a satisfying finish – the entire time, showing great inhales, mouth and nose exhales.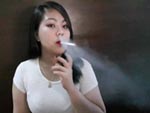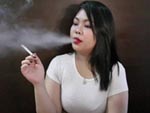 In the photo galleries, sexy Aymie shows off her hot smoking in two shoots, putting on makeup in one and enjoying a glass of champagne in the other. She shows her fabulous french inhales and nose exhales, along with dangles and mouth exhales, throughout. And after a long absence, Gabi returns with an adorable new look and terrific smoking: open-mouth and snap inhales, thick cone exhales, and lots of nice smoke rings.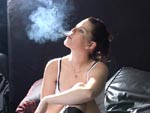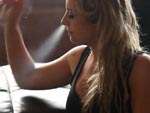 You can see sample clips here and here.
Come join us!