3/22: New this week at Smoke Signals Online…
This week at Smoke Signals Online, the net's original and largest smoking fetish site, we've added 743 new photos and 13 minutes of video.
Sultry Tiffany C. is in white bra and sweatpants in the photo galleries, but still looks glamorous as she enjoys a cork 100, brushing her hair as she shows lots of dangles and hands-free smoking along with mouth/nose exhales, wafts and french inhales. Then Susan B. is wearing a red jumper and drawing in her notebook, but her smoking is anything but childish. She takes deep drags on her cork 100, with big snaps and french inhales, dangles and right-at-you exhales throughout this shoot.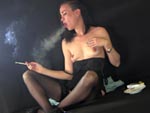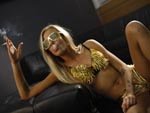 In the video galleries, Sinai's chat with the cameraman gets interrupted by a phone call, but it doesn't interrupt her smoking as she keeps going with deep drags, thick exhales, snaps, and – of course – beautiful smoke rings. And Ellie A.'s in bunny ears, but they don't distract her from her Newport 100 – or her snaps, mouth and nose exhales, frenches, dangles or smoke rings – in another fabulous session.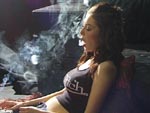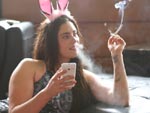 You can see sample clips here and here.
Come join us!