8/22: New this week at Smoke Signals Online…
This week at Smoke Signals Online, the net's original and largest smoking fetish site, we've added 839 new photos and 18 minutes of video.
In the photo galleries, Cherry B. and Cilla are in the dressing room doing hair and makeup – and of course, smoking. There are mouth, nose and mouth/nose exhales, and naturally lots of dangles as the pair enjoys their Marlboro 100s and hanging out. Then Amanda C. is enjoying a VS 120 in a fur coat, taking deep drags and showing off her snaps, french inhales and rings for the cameraman.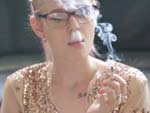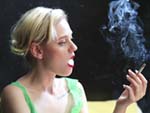 In the video gallery, adorable Candy strips out of her "farmer's daughter" outfit to show her sexy and naughty sides, getting naked and then using her fingers and vibrator to give herself a good workout. She smokes her all-whites non-stop, with deep drags, snaps and smoke play, and pretty mouth/nose exhales.
You can see a sample clip here.
Come join us!