12/22: New this week at Smoke Signals Online…
This week at Smoke Signals Online, the net's original and largest smoking fetish site, we've added 1039 new photos and 12 minutes of video.
In the photo gallery, cute Siri is back in two more fabulous casual/glam archive shoots smoking Marlboro 100s. She's reading a magazine and checking out clothes, while she shows off her great mouth, mouth/nose,
nose exhales and dangles along with some nice RAY shots.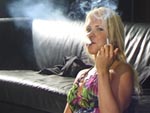 And in a great casual shoot for the photo and video galleries, Susan B. works at perfecting her multiple french inhales (a number of frenches all from one drag), while texting and showing deep drags on her cork 100.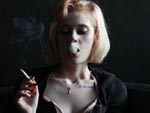 You can see a sample clip here.
Come join us!