1/15: New this week at Smoke Signals Online…
This week at Smoke Signals Online, the net's original and largest smoking fetish site, we've added 1511 new photos and 17 minutes of video.
In the photo and video galleries, Charli shines in four shoots this week. First, there are several scenes as she tries (and fails badly) to surf the computer, smoking all-whites (which do a great job of showing off her bright red lipstick on the filters) with deep drags, mouth and nose exhales, hands-free smoking, french inhales and – of course- exaggerated snaps. Then in a casual scene, she's smoking by the window as she enjoys her morning coffee and a cork 100, and finally we have a short shoot in hot lace and boots, relaxing on the couch.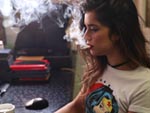 Then Ivana A. relaxes in a sundress in two great scenes, first enjoying a cork 100 and then trying her first-ever VS 120. We see deep inhales, thick mouth exhales and lots of smoke rings (many right-at-you). There's some chat with the cameraman as well.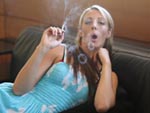 You can see sample clips here and here.
Come join us!