9/22: New this week at Smoke Signals Online…
This week at Smoke Signals Online, the net's premier smoking fetish site, we've added 337 new photos and 10 minutes of smoking video.
In the photo galleries, Mel L. and Debby smoke in a playful shoot in lingerie and coverups; Mel shows her slow mouth exhales while Debby shows her elegant straightforward style. And in the high-res galleries, Charly vamps, dangles and smokes corks in a glamour shoot.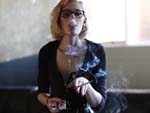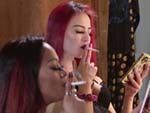 In the video galleries, Adarra is in bra and sweatpants; as usual she needs an extra hit of smoke, so she lights a pair of all-whites. She gets hotter as she chains into a second pair of cigarettes, loses the bra and masturbates under the sweatpants as she shows huge drags and thick mouth, nose and mouth/nose exhales.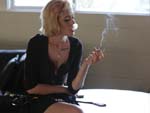 You can see a sample clip here.
Come join us!