A BIG ANNOUNCEMENT ABOUT SMOKE SIGNALS ONLINE, COMING VERY SOON!
12/15: New this week at Smoke Signals Online…
This week at Smoke Signals Online, the net's original and largest smoking fetish site, we've added 1078 new photos and 12 minutes of video.
Adorable Gabi shows her sexy and serious sides in two great shoots this week in the photo galleries. First she's enjoying a VS 120 in a glamour shoot, as she shows us fabulous snap inhales along with mouth and nose exhales (plus a few smoke rings), then she's smoking a Marlboro 100 as she works at her computer with lots of dangles and hands-free smoking. Then Charli's always happy when she's smoking, but she's happiest when she also gets to teach someone smoking techniques. As she enjoys a VS 120 and Miri has her own Marlboro 100, Charli works with Miri on her snaps and french inhales. The snaps are a success and the frenches less so, but they have a great time showing off and practicing, respectively.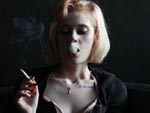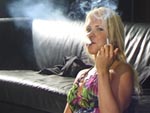 In the video gallery, Susan B. sparkles in a white sweater and bra and smokes a Newport 100, while she chats with the cameraman. Throughout we see her fabulous deep drags and french inhales, along with mouth, mouth/nose, nose and right-at-you exhales, plus some dangles.
You can see a sample clip here.
Come join us!