6/22: New this week at Smoke Signals Online…
This week at Smoke Signals Online, the net's original and largest smoking fetish site, we've added 501 new photos and 12 minutes of video.
In two shoots in the photo galleries (switching it up with Marlboro Light 100s rather her usual Newport 100s), Ellie A. shows her terrific style with deep drags, mouth and nose exhales, dangles and hands-free smoking, snaps and frenches, double drags and right-at-you exhales – we didn't leave anything out, because Ellie sure didn't. Then in wonderful glamour smoking, Miri considers the sexy lingerie she'd like to wear later in the evening while smoking a cork 100; she shows deep inhales, slow mouth and nose exhales, dangles and snap inhales throughout.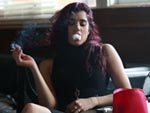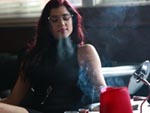 Mel L. is one of those models that we get incredibly different reactions to – but those who love her can't get enough of her, and have asked if we have anything that's even a little sexier than our last shoot with her. So here she is again in the video gallery in rhinestone bra and black panties, smoking a VS 120 with all of her one-of-a-kind, sensuous style.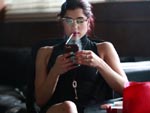 You can see a sample clip here.
Come join us!