5/1: New this week at Smoke Signals Online…
This week at Smoke Signals Online, the net's original and largest smoking fetish site, we've added 484 new photos and 20 minutes of video.
Blonde Klara is in lingerie (and in one scene, faux fur as well) in the photo galleries, as she enjoys VS 120s while putting on her makeup in the dressing room. We see straightforward, pretty mouth and nose exhales, as well as some dangles. Then sizzling Clare is in black lace bra, panties and gloves, devouring a cork as she surfs her phone with lots of dangles, and thick mouth, nose and mouth/nose exhales.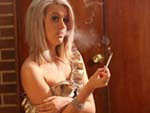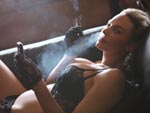 More Susan B.? No problem. In this great video gallery shoot she's working on her laptop (the glasses are a good look for her), not only showing her amazing french inhales and mouth exhales, but working on her recycled frenches and rings. She's getting there, too.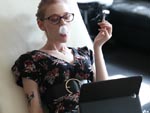 You can see a sample clip here.
Come join us!