1/1: New this week at Smoke Signals Online…
This week at Smoke Signals Online, the net's premier smoking fetish site, we've added 1357 new photos and 18 minutes of new video.
In the photo galleries, Nancy C. is terrific in lingerie and casual shoots, with deep drags, thick mouth exhales and almost non-stop smoke rings. Then in our exclusive latest internet model shoot, blonde Chanel smokes a series of all-whites in t-shirt and cutoffs, then in blue bra and panties, and finally nude as she masturbates to orgasm. She shows deep inhales and nice mouth exhales throughout.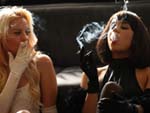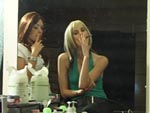 In the video galleries, Loretta and Sam T. relax and smoke in two shoots; in the first, they sip champagne as they smoke and in the second, they just chat and have fun. In each, we see fabulous nose exhales, as well as cones, snap/french inhales and smoke rings from two accomplished and pretty smokers.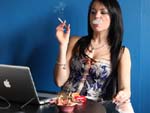 You can see a sample clip here.
Come join us!