9/8: New this week at Smoke Signals Online…
This week at Smoke Signals Online, the net's original and largest smoking fetish site, we've added 1268 new photos and 19 minutes of video.
It's been – well, forever – since we've been able to share shoots with one of our favorite models. But guess what turned up in a search of the archives for this week's photo gallery update? Pretty Emma B.
enjoying an all-white in a glamour shoot complete with veil. We see her terrific smoking with fluffy, thick mouth and nose exhales, plus natural slight french inhales and open-mouth inhales – and it's great to see her again.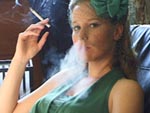 You can see a sample clip here.
In the photo and video galleries, Charli is sporting a funky, sexy look with red hair, red panties and red-and-white striped socks (along with red lipstick). She enjoys a Marlboro 100 (Reds – of course!), showing her usual great snaps and frenches along with thick exhales and dangles – and then chains into a VS 120, enjoying the second cigarette just as much as her first. There's some good smoke talk, too.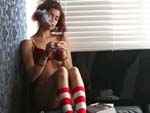 You can see a sample clip here.
Come join us!