Exclusive New Release at Smoking Flicks….
We've just added a just-released, new smoking fetish movie at Smoking Flicks – the smoking movie streaming and download site.
IRL 2.0 has just released a brand-new movie, Multiples 1 — with all new footage never seen anywhere before this. It features six of their great new models, all smoking two-at-once, with huge drags, thick mouth and nose exhales, french inhales, and more. It's available for either download or streaming.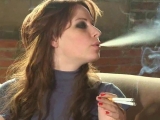 And if this one does well, Adam promises many more multiples videos.
Come check it out at Smoking Flicks