8/22: New this week at Smoke Signals Online…
This week at Smoke Signals Online, the net's original and largest smoking fetish site, we've added 1142 new photos and 23 minutes of video.
We've decided to call these shoots in the photo and video galleries with Susan B. "Susan, before and after" – because we did the casual shoot when she had her natural blonde hair, and the glam shoot in lingerie after she'd died it red. In both, though, her smoking is great and her natural french inhales are (as always) exceptional; there's also some smoke play and some terrific closeups with right-at-you exhales.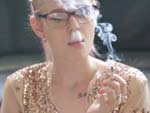 You can see a sample clip here.
Come join us!