5/1: New this week at Smoke Signals Online…
This week at Smoke Signals Online, the net's premier smoking fetish site, we've added 522 new photos and 17 minutes of new video.
In the photo galleries, Parie is in hot lingerie, showing us cheek-hollowing drags and double pumps, beautiful mouth exhales, slight snaps and dangles. Nina returns to show her nice mouth/nose exhales as she smokes all-whites and gives smoky oral sex to her man, with a messy finish.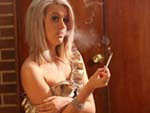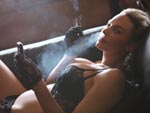 In the video gallery, Loretta is waiting to shoot with Leah, so of course she has a cigarette; she shows her usual sexy snap/french inhales, nose and mouth exhales as she talks about practicing her smoking style. Meanwhile, Leah L. talks about how she practices her smoking tricks all the time, as she demonstrates with deep drags, mouth and nose exhales, snaps, frenches and open-mouth inhales, smoke rings and right-at-you inhales in an impressive show. Finally, Leah and Loretta team up to talk more about the way they practice their smoking, as they share a cork 100 and demonstrate their exceptional styles.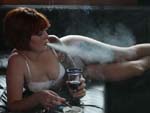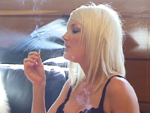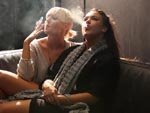 You can see sample clips here and here.
Come join us!