8/22: New this week at Smoke Signals Online…
This week at Smoke Signals Online, the net's original and largest smoking fetish site, we've added 528 new photos and 10 minutes of video.
We're getting the feeling from your feedback that Susan B. is becoming one of your new favorites. So — here she is in a casual, studious shoot, enjoying Marlboro 100s with her trademark french inhales and mouth exhales. Then in a short but artistic outdoor shoot, Amanda D. enjoys corks in black lingerie and heels. Sexy.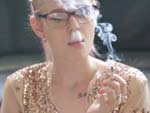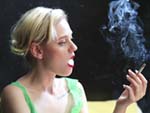 In the video gallery, Charli is in the dressing room, putting on eye makeup and deciding what to wear;
then she's relaxing in bra and panties and taking a few selfies. She smokes a cork 100 and then a VS 120
with the full assortment of snap and french inhales, mouth and nose exhales, dangles and double drags throughout the shoots. There's some talk about how she hates people who don't want her to smoke, too.
You can see a sample clip here.
Come join us!