New smoking fetish videos added at Smoking Flicks….
We've added two new smoking fetish movies at Smoking Flicks – the smoking movie streaming and video download site.
EXCLUSIVE: FILMED AND PRODUCED FOR US BY SMOKING SWEETIES! Maria is one of the hottest and heaviest chain-smokers ever filmed by Smoking Sweeties, and in this scene, she shows us how she takes a shower – by chain smoking the entire time. Maria lights up, then takes off her clothes and lathers up – she washes, shaves and rinses off while smoking three Reds non-stop, hands-free. That's right, she dangles and smokes the whole time she's in the shower, since she simply can't be away from her cigarettes. The beauty of this clip is seeing a woman so heavily into her cigarettes, she has to – and wants to – take them everywhere. One highlight is Maria hotboxing the last part of her second cigarette, as she smiles and rinses off the soap. You won't see a scene like this anywhere else – and it's all real!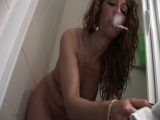 And in a new Random Snaps/Smoke Signals compilation, highlights are sensational closeups of Mieke's french and snap inhales, mouth and nose exhales; sexy solo shoots with Bridget in leather pants; and great duo smoking by Haley and Brigitte.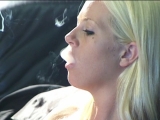 Come check them out at Smoking Flicks