9/1: New this week at Smoke Signals Online…
This week at Smoke Signals Online, the net's premier smoking fetish site, we've added 694 new photos and 19 minutes of new video.
You've been asking for more of Katie's early shoots with Random Snaps, so we've gone one better. Here, in the photo galleries, are her first-ever duo shoots – with Maddie! See what happens when two super-smokers get together for the first time: enough incredible frenches, snaps, mouth/nose and nose exhales, double drags and smoke rings to satisfy just about anyone. Then Adarra is in striking purple lingerie, which conveniently pulls up for a short but satisfying smoking masturbation scene with deep drags and thick mouth exhales throughout.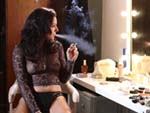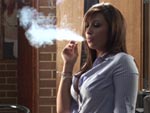 In the video galleries, an alluring Loretta vamps a glam shoot, with deep and double drags, lots of thick nose exhales, snap inhales, smoke rings and right-at-you exhales. Next, we have Leah L.'s first duo shoot ever. With a casual/glamour look, Loretta coaches her through the fine points of smoking on camera; Loretta shows off her french inhales and cone exhales while Leah is still a bit shy about showing off.
Then, we see the duo in more recent times as Leah is much more into performing and Loretta has fun with her nose exhales.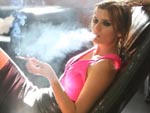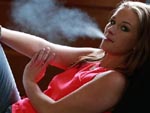 You can see sample clips here and here.
Come join us!