3/22: New this week at Smoke Signals Online…
Merry Christmas! (Well, that's when this one was shot.) In the photo galleries, Ellie is celebrating in the photo galleries with a cork 100 in fishnets and lingerie, showing off her cheek-hollowing and double drags, snaps and frenches, mouth and nose exhales, and hands-free smoking.
Then beautiful Lee is in black lingerie, smoking corks, with big drags, snap inhales, and nicely-formed cone exhales (many of them right-at-you).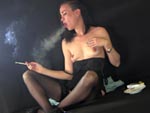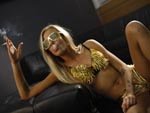 In the video galleries, Alexis is in t-shirt and panties as she lights up a Marlboro Light 100 – but really isn't comfortable that way; she gets naked (except for her high-heeled boots) and goes right to work on her pussy, going through two cigarettes with nice inhales, mouth/nose exhales and some small snaps, before her satisfying finish. Then slim Ashley in black outfit and stockings (and with orange hair), strips down to her lingerie as she enjoys a Marlboro Light 100, and slips her hand under her panties to enjoy that as well.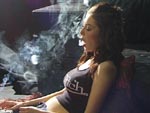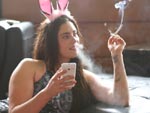 You can see sample clips here and here.
Come join us!