10/1: New this week at Smoke Signals Online…
This week at Smoke Signals Online, the net's premier smoking fetish site, we've added 841 new photos and 20 minutes of new video.
In the photo galleries, Leah L. and Loretta first play with "girly" accessories as they smoke, and then play with their smoke for the camera – and each other – with fabulous mouth and nose exhales, snaps and double drags among the highlights. And we got good response once again to our shoot with popular BBW web model Bee, (aka Ms. Death Bee) so we prevailed upon her to do a smoky masturbation shoot for us.
She came through with more great smoking as she plays, including deep drags, big open-mouth inhales and strong cone exhales.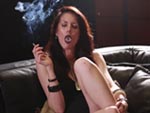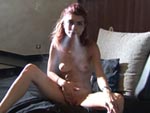 In the video galleries, Kim B. shows off her great mouth/nose exhales and snaps as she sits in a car and drives in two scenes, and then in bra and panties in a very, very smoky room. Then, cute Millie returns to again lounge in her robe as she smokes corks, with mouth exhales, smoke rings and some right-at-you exhales.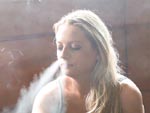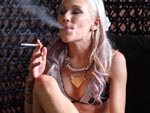 You can see sample clips here and here.
Come join us!