11/1: New this week at Smoke Signals Online…
This week at Smoke Signals Online, the net's premier smoking fetish site, we've added 1003 new photos and 20 minutes of new video.
In the photo galleries, Kim B. is in glasses, hard at work in the photo galleries – and of course, she can't work without her cigarettes. There are fantastic cheek-hollowing drags and hands-free smoking, gorgeous snap/french and snap inhales, perfect mouth/nose, cone and nose exhales throughout. Then, we see Kim smoking (corks and 120s) in "stripper" lingerie; even though her outfit is different, her exquisite smoking remains exquisite. We also have Adarra, Marlboro Lights and a vibrator. You can guess the rest of this satisfying scene.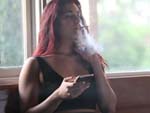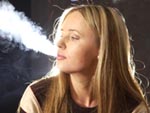 In the video gallery, super smoker Georgia is back and driving around town as she smokes cork 100 after cork 100; she chats with the cameraman as she shows off her mouth, mouth/nose and nose exhales, along with great snap exhales, dangles and smoke play.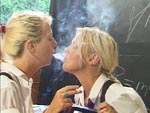 You can see a sample clip here.
Come join us!