3/22: New this week at Smoke Signals Online…
This week at Smoke Signals Online, the net's original and largest smoking fetish site, we've added 673 new photos and 18 minutes of video.
In the photo galleries, Cilla is glamorous in white, and then glamorous in black, as she smokes a VS 120 and then a Marlboro 100, with a gentle, delicate style for her mouth and mouth/nose exhales, dangles and double drags. And Shirin is sultry in pink lingerie, enjoying a cork 100 with deep drags, snaps and thick cone exhales as she watches you with an unattainable look.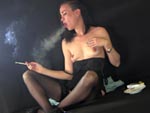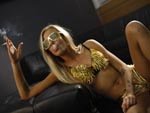 In the video gallery, foxy Eliza explores her body through her full-length see-through lace outfit while slowly and sensuously enjoying all-whites; after disrobing, she leisurely begins a deliberate self-sex session and continues until she's satisfied. Throughout, we see slow nose and mouth exhales, with residual exhales.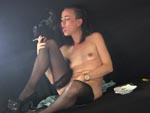 You can see a sample clip here.
Come join us!