5/15: New this week at Smoke Signals Online…
This week at Smoke Signals Online, the net's original and largest smoking fetish site, we've added 1488 new photos and 20 minutes of video.
All of our nose exhale fans (and yes, there are a lot of you) have reminded us that we haven't showcased Aymie in a while – so here she is in all her glory, smoking VS120s and cork 100s in the photo galleries,
with french/snap inhales, mouth exhales and dangles in addition to her natural and preferred nostril exhales. Then Cilla enjoys both Marlboro 100s and VS 120s in elegant/casual shoots with mouth, mouth/nose and nose exhales plus some dangles, all the while showing her delicate smoking style.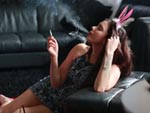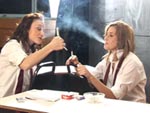 Stefanie B. LOVES playing with her smoke. In casual and more glamorous dress in the video gallery, she takes deep drags on a Marlboro 100 and then a VS 120, followed by snap inhales, and lots and lots of large, thick smoke rings along with some showy mouth exhales. She sips wine and surfs her laptop, too – but that's nowhere near as enjoyable to watch.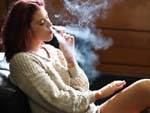 You can see a sample clips here.
Come join us!