1/1: New this week at Smoke Signals Online…
This week at Smoke Signals Online, the net's original and largest smoking fetish site, we've added 698 new photos and 17 minutes of video.
In two casual shoots in the photo galleries, Charlize shows off her deep and double drags, mouth, combined and frequent nose exhales to perfection. In one scene she smokes Marlboro Lights 100s; in the other, she smokes an rolled, unfiltered cigarette. Then sultry Elena is naked on her bed with her cigarettes – which means there's only one thing to do: masturbate as she smokes. She does it well, too, with big inhales and beautiful cone exhales as she works herself to a conclusion.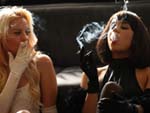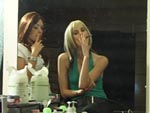 If you're looking for voluminous exhales, look no further than Belinda A. In two shoots (one purely casual and one with glamour overtones) in the video gallery, she takes huge inhales, holds the smoke for a while, then lets loose with enormous and beautiful cone exhales. There are also plenty of dangles and right-at-you exhales.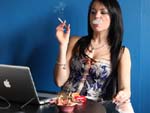 You can see a sample clip here.
Come join us!