10/22: New this week at Smoke Signals Online…
This week at Smoke Signals Online, the net's original and largest smoking fetish site, we've added 993 new photos and 15 minutes of video.
In the photo galleries, adorable Miri and sexy Charli smoke Marlboro 100s and VS 120s as they chat in two scenes and Charli teaches Miri how to do snaps and french inhales. Some nice smoke rings from Charli, too.
Then in two archive shoots, a young duo of Maddie and Jenny J. enjoy VS 120s in bikinis by – and in – the pool, with Maddie's accomplished smoking (including snaps and open-mouth inhales) and Jenny's sexy style.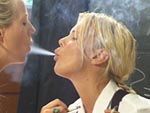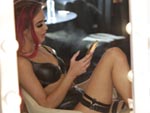 Sexy, dark-haired Bubu is back in the video gallery with fabulous deep drags, thick mouth and nose exhales, as she lies back for terrific and smoky self-satisfaction.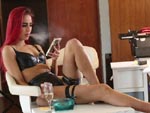 You can see a sample clip here.
Come join us!